You must have heard this phrase: "A family that eats together, stays together". Oh, we got it wrong? Well.
We will share four (4) ways to spend the weekend as a family in the following slides. This exercise is best because it fosters family communication and unity, promotes oneness and serves as an escape from home at home.
Without further ado, here are our suggestions on how to spend the Friday night with your family.
Nighty Sky Dinner
You've always had dinner in the dining room under a roof. This Friday night, go out and eat under the sky. This will be a whole new experience, and some might say it changes the taste of the meal and makes it even sweeter – don't quote us though. You can hire us to make a beautiful set-up in any sport of your yard that is cool and calm. String lights and this frame will lift the experience and make it more beautiful.
Themed Dinner at Home
Pick a fascinating theme and decorate your home this Friday evening for dinner. The theme could be inspired by mummy's favourite colour, daddy's favourite city, or junior's favourite movie. If you want it small scale, the décor could be only for the dining room, or you could "go big and stay home" by decorating the whole house, maybe call the cousins and sisters, then play some music after dinner and dance!
Garden Eat-out
This is best for houses with garden space. The effort you spend tending your flowers shouldn't be for just viewing pleasure alone.
Let's enjoy the fresh air of the garden this evening by eating out. You can rent a pagoda tent (or two), some garden chairs and tables from us to make this Garden Eat-out setup possible.
Sleepout Dinner
This last idea is a little over the top, but worth it. You can have a mini picnic in a tent outside your home with a Friday night dinner. Here is what's great, you can use our closed tent so that a sleepout is possible.
You can decorate with beds and comfy sofas like our white sofa set. If you wish, you may add one AC if the evening breeze isn't enough for you.
Get our products here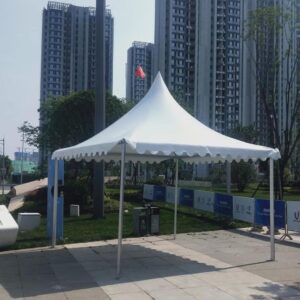 10ft by 10ft Pagoda tent Click here to rent now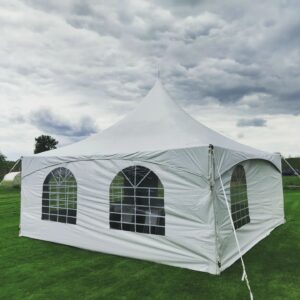 Closed Marquee tent Click here to rent now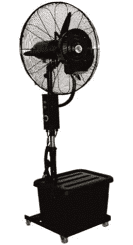 Mist fan Click here to rent now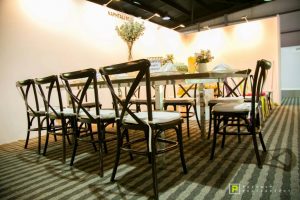 Garden chair Click here to rent now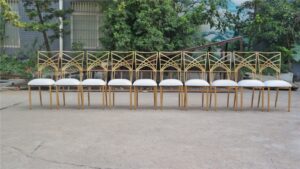 Chameleon chair Click here to rent now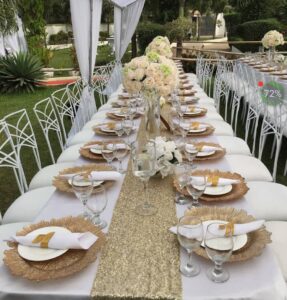 Rectangular banquet table Click here to rent now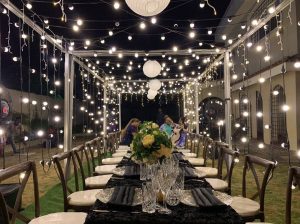 String light Click here to rent now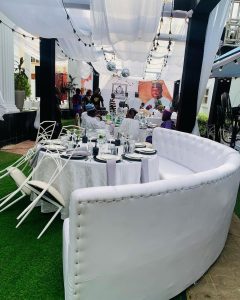 Sofa set Click here to rent now
Don't go out and spend thousands of naira on strong drinks with friends while your family misses you, rather use our suggestions to bond with your family this Friday night.
At Naphtali, we rent every event item for your perfect event. We also deliver around Nigeria, plus we set up too. Call us at 07066076497, or simply click here.